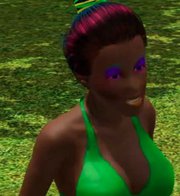 Ragnarok-Vorkel (talk) 08:07, January 21, 2014 (UTC)
Bonshaquita'Lafondria is a character introduced to the Keisha's Valley show in the third episode.
Appearance
Edit
Her clothes are quite interesting for a public attire, but, what makes her really stand out is her choice in hair style and make-up.
Bonshaquita'Lafondria's make-up is rather interesting in the sense it distorts her face. Her blusher is applied so to make her jawbone appear more protruding than usual. She wears purple eyeshadow, teal eyebrow pencil to make up for her lack of eyebrows, a pink colored eyeshadow under her eyes, and golden-yellow colored lipstick.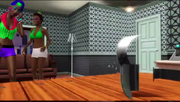 She wears a hair-net-styled net to cover the coned-top that is yellow and green. She also wears a green bra and a short cream dress. She wears a golden bracelet and golden ring on her left hand. We see a quick glimpse of her shoes in the third epsiode that are white and a similar design to Keisha Fabo's.
Personality
Edit
Bonshaquita'Lafondria is very proud, and will not take anything from anyone.  When Deltrese rudely asked who she was, she said:
My name's Bonshaquita'Lafondria, you best step yo fuckin' ass up.
Regardless of this being the first time the two have met.
Background
Edit
Bonshaquita'Lafondria was a new addition to the group who became friends with them quickly. After she itnroduced herself, Deltrese bluntly asked who she was. She wasn't going to take that and reacted appropriately. When she was further insulted, she said "oooh, let's get this stupid bitch". After dancing, they then retreated to dance. Bonshaquita'Lafondria then helped Keisha Fabo and Breadquanda with their music video for Darrell.